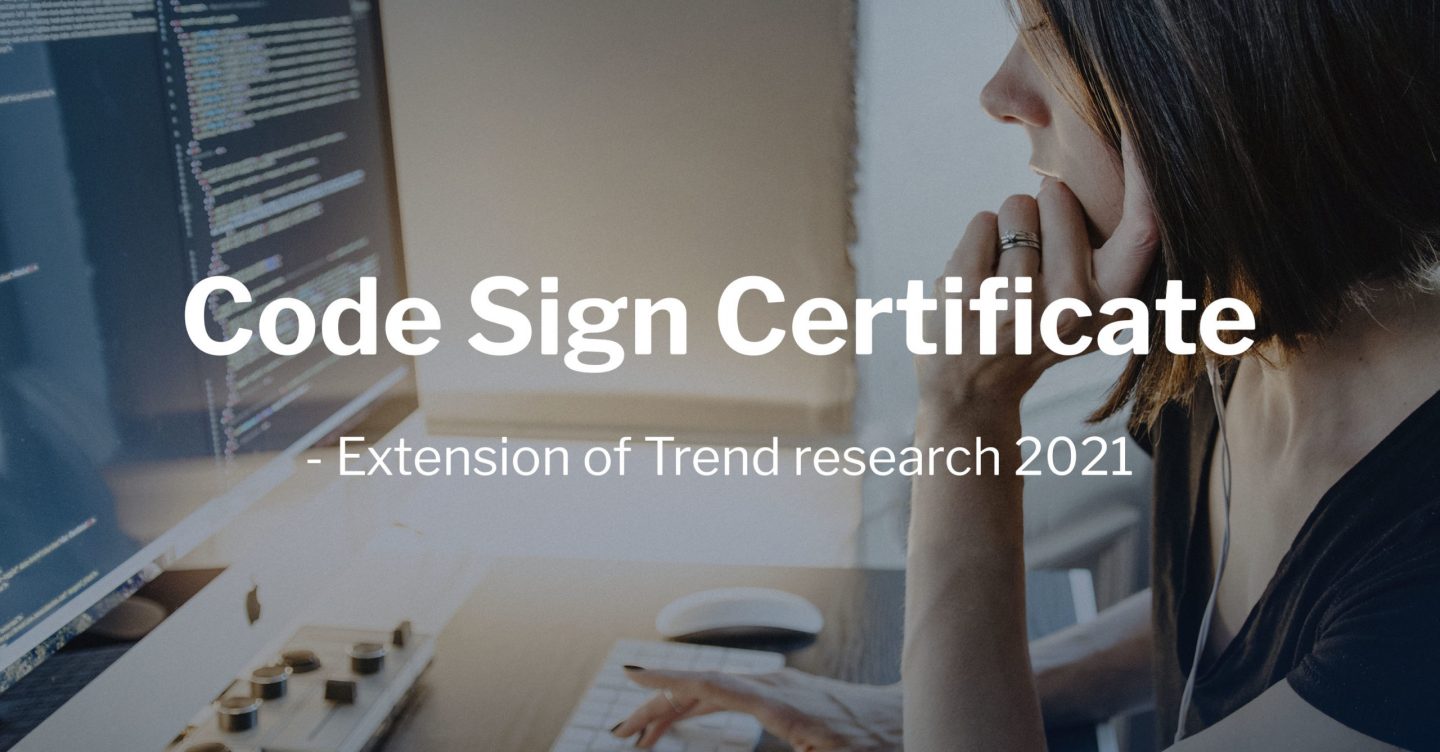 Code Signing Certificate
We have previously highlighted the 6 most important trends in technical certificates in 2021. To delve even further into these trends, we now turn to a new certificate for code signing, which has become increasingly crucial to prevent malicious tampering of applications and software, which in turn increases user confidence and trust.
As technology evolves, so do methods of fraud. Today, millions of users download and install applications and software. This creates a window of opportunity for scammers to infiltrate computers or phones to capture user-sensitive information. To avoid this, you need to apply an advanced security layer to your software or application – a so-called Code Signing Certificate.
What is a Code Signing Certificate?
Code Signing Certificates are used to authenticate software developers or publishers and to certify that the software does not contain malicious code. The signing is done digitally for software, applications, and drivers.
Signing encrypts your applications and increases users' trust in your products. It's a way for end users to verify that the code has not been tampered with by a third party.
Why do I need a Code Signing Certificate?
Without a certificate, malware may spread when an app is downloaded or installed, especially given that apps often pass through computer networks and websites before reaching end users. Unsigned applications may contain malicious virus or software.
Is your software available on external platforms and channels or distributed by a third party? Then it is even more important that your partners can trust that your code does not harm their users or pass on sensitive information. As a software publisher, it is your responsibility to protect all users, and you certify that by implementing a Code Signing Certificate.
The certificate protects against, among other things, fraud, and malicious code, but can also detect files that have been tampered with. If a warning message pops up when downloading an app, users often refrain from installing it and consider the publishers to be unreliable. Once a Code Signing Certificate is implemented, no warning messages will appear when downloading or installing your app.
The code signing includes the developer's signature, your company's name and, if desired, timestamp. Timestamping is a mechanism that ensures your digital signature remains trusted long after your Code Signing Certificate has expired. Without a timestamp, your signature expires when the certificate expires.
Since major software vendors such as Microsoft, Linux and Apple actively warn users to download applications without a Code Signing Certificate, you will immediately gain more downloads and increased confidence in your apps when implementing a certificate.

What's the difference between a code signing certificate and a TLS / SSL certificate?
If you are getting confused about the difference between code signing certificates and a TLS / SSL certificates, you are not alone. Anybody can get confused as they resemble each other, and both protect users and companies – but having one does not exclude the necessity of the other.
Benefits of a Code Signing Certificate
Encrypts the software and ensures that the code has not been tampered with since being published.
Verifies the authenticity of the software and the identity of the developer.
Protects both you and your customers from fraud, malware, and theft.
Protects your intellectual property rights.
Boosts your number of downloads and installations.
Without a Code Signing Certificate, your application will be flagged and a warning message will appear, which leads to reduced trust in your brand.
Benefits of a TLS / SSL certificate
Encrypts the connections to your website and ensures that data is securely transferred between the browser or the user's computer and a server or website.
Without an SSL certificate, the browser will display an error message, warning users that the site may be insecure.
Code Signing certificates can be issued with Extended Validation, EV. By having an EV Code Signing certificate you increase customer trust, as it requires stricter validation controls to meet the standard and defines higher requirements for hardware security. Through EV validation, users will gain even greater confidence in the integrity of your applications
Want to know more?